Stu and The Kids 2017 Fundraiser – Los Angeles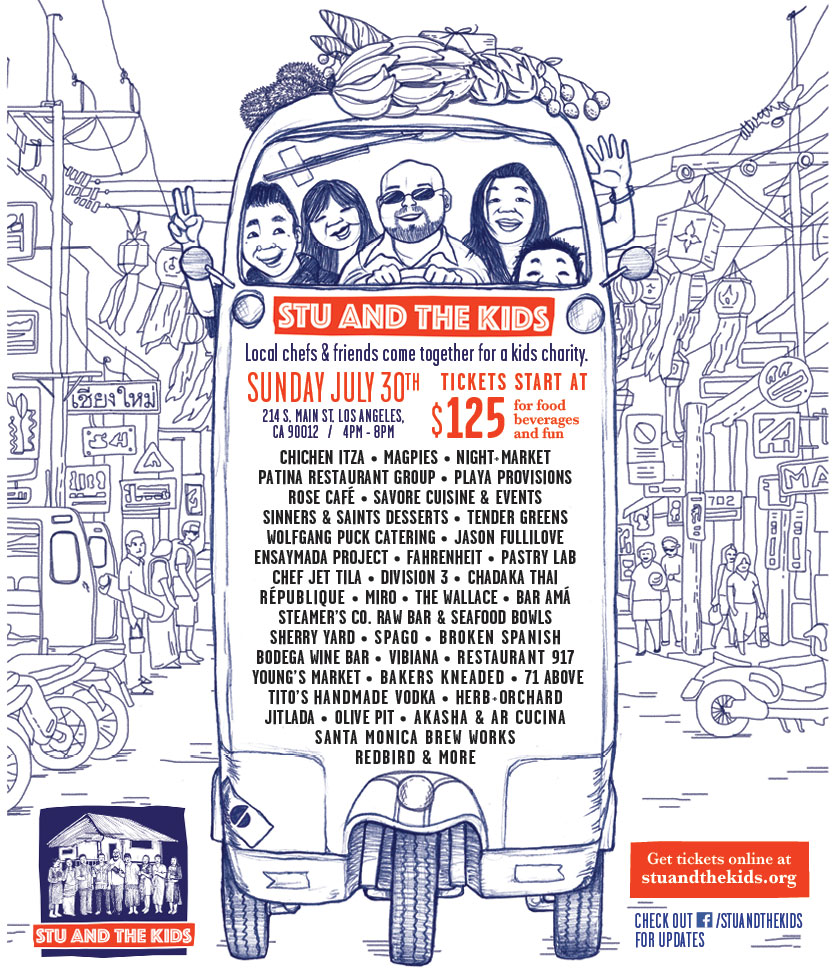 Stu and The Kids fundraiser is going to be an amazing culinary experience celebrating the flavors of Thailand. Thai-inspired food and beverages will be served, there will be music and a very eclectic auction. Los Angeles' most well known restaurants and chefs will be gathering to showcase their take on Thai-style food. All of the proceeds from this event will be used towards sponsorship for university education to help underserved and orphaned Hill Tribe kids in Chiang Mai, Thailand.
Certain circumstances in life compels me to say that there isn't a better cause for the underprivileged than "higher education". Stu and the Kids core focus is to offer a better chance in life for the under-served and orphaned graduating from high school from the Wat Don Chan school-orphanage in Chiang Mai where currently 600+ abandoned children take refuge. Though the temple takes them in, gives them a dorm to live in, meals and a primary education, each kid, however, is on their own once they become of age.
Stu volunteers at the Wat, granting some privileges to build rapport with the orphans by teaching English, cooking and baking. Through his close relations to the kids, his offer to help provide for a university education is one that no kid with a dream could refuse. If a kid could envision a brighter future for himself, or herself, I believe it benefits society in a great way when we can help provide a path. These special kids just need a bit of help to change their lives and in many cases the lives of their families and villages. We have had 4 kids graduate already, 8 kids in school now and hoping to add 8 more this year. A little goes a long way! For as little as $3250 a year, 1 kid can attend university and this includes everything to set them up for success, tuition, uniforms, books, room and board.
---