Summertime in the states and lots of Fun, Fundraising.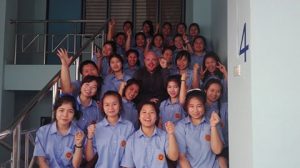 This year we are seeking contributions to help fund 10 more deserving kids with university scholarships. Most of our kids come from the Wat (Thai Temple) where I am a volunteer teacher. The Wat takes in all Hill Tribe kids without families or from very bad economic situations. Without the Wat many of the boys in end up in gangs and traffic narcotics, while many of the girls end up in brothels. With your help we are able to give them a brighter future.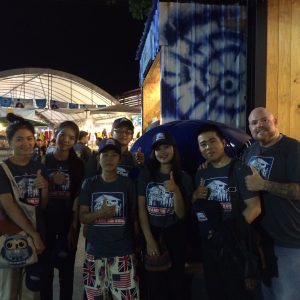 With your donations we are able to provide the kids with enough money to pay for all expenses (tuition, room & board, etc), and let them focus on being successful in school, without the worries of how they will pay for food or a place to live. A year of expenses for each kid is approximately 3000 – 4500 depending on the school they are accepted to. (We make sure to collect enough funding for each kid for 4 years before providing them with their scholarship.) I also conduct monthly meetings with each kid and mentor them with any problems they may have or help them with anything they may need. Many of us take it for granted that we had parents to coach us through life where as most of these kids did not have that advantage.
This summer we had our two annual fundraisers one in Los Angeles and the other on the East coast in Philadelphia. The Los Angeles fundraiser was on Sunday July 31st at the beautiful Vibiana downtown. This event grew significantly from last year. We sold over 330 tickets, had over 40 volunteers and another 100 people that made up our group of amazing chefs, wineries, bakeries, photographers (managed by Erik Fischer) and our zero waste management team, thanks to Athens Services for always keeping us Green.


The event was focused on sharing some of the things we love about Thailand with all the attendees. The Tourism Authority of Thailand, donated their time to decorate, bring in the Thai dancers and donated prizes to givee out for games being played. This event was like a mini food and beverage festival but all Thai-style; it had worked so well last year. Some of the Chefs and restaurants involved in this years event were Neal Fraser from Redbird, Brooke Willamson and Nick Roberts from Playa Provisions, Walter Manzke from Republique, Ted Hopson from The Bellwether, Kris Yenbamroong from Night+Market, Tetsu Yahaji from Spago Beverly Hills and so on — we had 29 chefs in total. We also had 10 beverage companies pouring wine, cider, Tito's Handmade Vodka and Thai beer.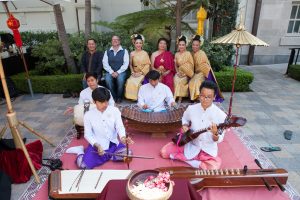 Jet Tila and Simon Majumdar from the Food Network did our VIP celebrity chef cooking demo an hour before the event started. Everyone had a blast all the while drinking prosecco and eating duck fried rice, Thai-style. At 4 pm the doors for general admission opened and everyone then began to taste all of the offerings that the other chefs made. We took over the main hall and the outside patio where there were 6 grills going all day cooking corn on the cob brushed with coconut milk from Andy Ricker at Pok Pok, the Wolfgang Puck Catering crew made 3 dishes and a cocktail and Thai-style beef from Lydia Shire's, Scampo in Boston. Outside we also had our now famous coconut bar and Warren Schwartz from Magpies Soft Serve handed out Thai iced tea flavor ice cream with toasted coconut. AMAZING!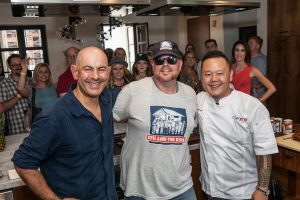 The eating, drinking and lot's of laughs happened all afternoon and evening. At 6PM I gave a speech about what we do in Thailand and how we help the kids. That was followed with a performance by the Thai dancers and musicians and our amazing live auction. The live auction ended with a 5 day trip to Chiang Mai, minus airfare but then Chef Jet Tila told me that he, Simon and Sherry Yard wanted to add a private dinner for 10 people cooked in their home. Well, they wound up giving 2 dinners away and raising over $10,000, we were all blown away. In the live and silent auctions that Jamaica worked so hard to set up we raised over $30,000! This was truly an amazing day, we raised $67,000 in this one day! Our biggest year to date was $52,000 so we have really grown and we so excited for the kids that we are going to be able to help.
In my home town of Philadelphia we had a great time as well. This year our fundraising event was at the Union League Golf Club at Torresdale in the Northeast. This place is 20 minutes from where I grew up and we were lucky enough to have lots of childhood friends there. We raised the most we have ever raised on the east coast, $10,750 and had a blast doing it. It was so great to catch up with so many people and fill everyone in on what we do here in Thailand.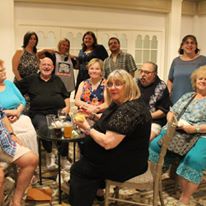 I have to give a HUGE thank you to my cousin Rachel for helping to plan everything. She got all of the chefs, beverages, staff, volunteers to work the door, the auction tables, got all of the auction prizes donated and for this, I am forever grateful to her. Thanks so much Rachel, I love you.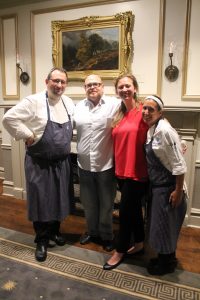 So there you are, now you know what we have been up to. All of this said we raise funds all year long and are still working on reaching our goal of $100,000 for 2016. We still have 3 1/2 months left to our fiscal year and we are hopeful that we will reach this goal. If you are interested in helping us, there are several ways to do so. Goto Stu and The Kids and click on the donate button, you can make a donation anytime or you can set up a monthly contribution. Also when you donate $25 or more we will send you a Stu and The Kids t-shirt, just make sure to put your t-shirt size on the memo and your home address.
Thank you so very much for helping us, help the kids. -Stu